Archive of posts filed under the Events category
Das Trio 'Nuages d'Aix' spielt auf, 8.5., ab 20h30 im Egmont, Eintritt frei!
| | | |
| --- | --- | --- |
| 5 April 2013 | to | 7 April 2013 |
Auch 2013 werden wieder Tanzträume wahr: 3 Tage Swingtanzen im Rahmen der Traumfabrik Regensburg!
Es wird spaßig, vergnüglich, ungewohnt, energievoll, und wie immer unnachhahmlich!
Wir freuen uns auf drei beschwingte Tage mit Euch!
Ihr werdet Charleston- und Swingbewegungen und-tänze lernen, an denen Ihr Euch selbst erfreuen, die Ihr aber auch an Eure eigenen Gruppen weitergeben könnt.
Save the date:  5. – 7. April 2013
Anmeldung ab Januar 2013 (Der Kurs ist ausgebucht.)
2012 hat noch nicht einmal stattgefunden, da stehen die Daten für's nächste Jahr schon fest: 16.11.2013 Tanz ohne Ende in Hürth, Bands etc tbc. hier
Weiterführung des vor Jahren recht etablierten 'Tanz ohne Pause', am 17.11.2012 im Haus Burgpark, Hürth ab 18h
Bands: Cherry Casino and the Gamblers, 5 in love, The Bel Airs, DJ: DJ Teddy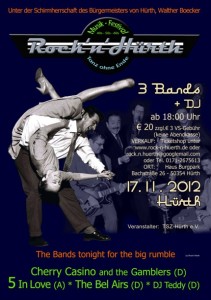 KEINE! Abendkasse! Ihr müsst Euch die Karten für 23€ vorher schon besorgen, bei den Hürthern unter: Ich will hin!
Obacht: Petticoat-Alarm!!!
Swing, Culture, Music, Socialising: the Athens Swing Cats cordially invite everybody to their Swing Exchange- it's gonna be fantastic, look-a-here: Athensswingexchange, from May 18-20